SDC Swingers
Swinger Dating
The largest and best swingers community in the world is without any doubt SDC. If swinging is your lifestyle, you simple can't ignore this huge swingers dating network. By the way, in case you don't feel like reading the elaborate description below and prefer to start dating swingers right away, then just click the link below.
Join SDC.com for free without any obligation.
Experiences with SDC
From personal experience, we can say, that dating via SDC works very well. We have been member since 2002.
Suppose you want to arrange a swingers date tonight, the chances you will succeed are extremely high, if you use the speed date function. With over 3 million members worldwide, there are always quite a few nice couples in the neighborhood who, just like you, are looking forward to an erotic encounter and want to meet today.

Thanks to SDC we have had many sex dates with swingers from all over the world. Of course many of them came from our own neighborhood. But also we had sex with lots of couples from other countries from all continents. And the great thing is, it takes hardly any effort. Via the site you can send, likes, direct messages, chat messages or start a webcam chat.

We ourselves are not very fond of long digital contact. So we keep the time we spend on messages as short as possible. Often it takes less than 5 minutes of your time to set up a date. Most of the time those 5 minutes SDC time will ensure that you have a super swingers date with another nice swingers couple (or multiple couples at a party) with a lot of adult fun. In fact, we dare to state that if you are a serious swingers couple, you need to be a member of SDC.

No matter where you live, there will be many real swingers in your area. Not only in big cities, but also in very small places you will encounter active swingers on SDC. In smaller places though, swingers members often use a big city nearby as place of residence for privacy reasons.
Is SDC only for couples or also for singles?
Originally it was primarily intended for swingers couples. However, because the last 10 years, swingers couples are increasingly more open to a trio with an extra man or extra woman, SDC has responded to this, by allowing more singles. Nowadays you see relatively more single men and single women than before. However the vast majority of members are couple. On your erotic profile you can indicate your sexual preference and what you are looking for. This way you will find a lot of couples, where the woman is bisexual and who are looking for an extra woman.

There are also plenty of couples of which the man is NOT bisexual, but where the couple is looking for an extra man. Not to pleasure him, because he is not attracted to men. This is only to pamper her extra. The single man in question does not have to watch, but can participate fully in the hardcore action. He can have fun with the woman and does not have to bring anything else but a condom and provide a stiff body part, that fits that condom. It can be, the two men will have trio sex with the woman or maybe the single man may play with the woman all by himself.

If you don't like singles, you can indicate this on your profile and more importantly you can block single men and/or single women completely. This way, any intrusive singles can be blocked. Singles will not be able to email you and they will not be able to view your profile. We can say, this function works very well in practice and is also helpful for singles. So they don't have to waste time on couples who are not interested in them.
Is SDC suitable for starting swingers?
Yes absolutely. SDC is a good site for both novice swingers and very experienced swingers. The validation system is very helpful for this.
If you notice a certain couple has 78 validations, then it might be a good idea for swinger newbies without any experience, to skip the seasoned swingers for the time being. It may be useful to start dating other beginning swingers or swingers who have just gained a little experience. Swingers with a lot of experience know exactly what they want. Usually they are not waiting for a couple without experience, where uncertainty, jealousy and hassle might ruin their date.
How many members does SDC have?
Worldwide they claim to have more than 3 million active swingers profiles and we immediately believe this. In fact, there are few countries in the world where there are no active SDC swinger members. Even countries you wouldn't expect, such as India, China, South Africa and Romania, are nicely represented. The number of Dutch and Belgian members is remarkably large and also UK and USA members are present in large numbers just like a lot of countries in Europe and South America. There are a lot of other countries which have high numbers as well. We did not check all of them, but if we see how many members from different countries we have met in Cap d'Agde, which were member of SDC, than we must conclude SDC is extremely huge.
Can you find private parties on SDC?
Yes of course you can with the events agenda. Within the swingers scene, private parties have been very popular for years and they continue to rise in popularity. A large group of swingers find it a bit boring, to date with only one couple, while you can also play with several couples in one evening right after each other, or simultaneously at a sexparty. Not only do you have more choice, but most likely also more sex with different partners. Within SDC there is an option to look for swingers parties, both public swingers parties and private home parties. Or you can organize one yourself, put in on SDC and invite couples. You will also see, that you will regularly receive private invitations from very nice couples who organize these kinds of parties. Most of these private parties are totally free and advertising it on SDC is free as well.
Also for the holidays, SDC is indispensable
When we go on vacation to Cap d'Agde in the summer, we always make a list of swingers we want to meet there. We find it useful to check in advance via the SDC travel planner, who else is going there. The amount of couples going to Cap d'Agde is almost endless.

Every year we make contact on SDC with hundreds of other swingers couples who go to Cap d'Agde, months before we actually go on swingers vacation. With these swingers we exchange contact details (often WhatsApp) beforehand. So we can contact hem later, when we are in Cap d'Agde. On the spot we send them a message again to set up a date via Whatsapp, the SDC app or SDC website, so we can meet them in real life that day or that evening.

At least that's the plan. In practice it is impossible to date all couples from the list. There are simple too many beautiful SDC members in Cap d'Agde to meet them all. There are only 24 hours in a day and unfortunately the holiday is not endless. But it does indicate, that a lot of real couples are members of the SDC swingers community all over the world and that comes in handy during your vacation.

Another nice feature of SDC is that you can temporarily choose another place of residence. This can be your holiday address, e.g. the address of your hotel. For example, if you are going on a holiday or a city break abroad, you can check in advance which swingers are present there. If you are going to Milan next month, you can change your location right now to see which swingers live in the neighborhood of your hotel. You can already contact some nice Italian couples in advance. From our own experience we can say, that there are many nice couples in Italy who are members of SDC and those Italian swingers are always in the mood and they like to party very quickly.
What does SDC mean?
The meaning of SDC is simple. It stands for Swingers Date Club, so it is an abbreviation. Nowadays it also stands for Swingers Dating Community and that is exactly what it is. You can best see SDC as a kind of Facebook. But specialized in erotic profiles and swingers sex dating. Instead of posting pictures of your face, you are posting photos (and videos, if you like) of some other parts of your body.
Does SDC have many fake profiles?
No, unlike many other sex dating sites, SDC consists of almost 100% real members who are really looking for a couple or single for dating, adult fun and sex. Of course, just like on Facebook, there will be quite a few accounts created by people who pretend to be someone else, but the vast majority of the members on the site are super real and you can easily check this.

Because a nice thing about SDC is that you can also view validations for each couple. If you see that a certain swingers couple (or single profile) has already received validations and reviews from other sdc members, then you can be sure that these profiles on sdc are real. If a profile does not have validations yet, then this couple or single can of course be real as well, because everyone has to start with 0 validations. In that case you can always first view each other via the cam to see if the photos and profile information, are in line with reality.

By the way, you can always refuse a review. Fortunately, we have never experienced a bad review from our dates. But in case that would happen to you and someone writes something annoying about your date on your profile, you can refuse it. By simply not approving the validation, nobody will ever see it.
What else does SDC offer?
Actually too much to mention, we name a few of them.
An online swingers lifestyle shop for SDC members with nice discounts for clothing, toys, fashion etc.
Offers for swingers holidays, because what's more fun to meet many other swingers while you're on holiday.
There are many parties organized by SDC including the crazy SDC World Party, a large SDC party with swingers from all over the world.
Often you can find discounts on other parties, admission fees for clubs and products if you are in possession of the SDC bracelet.

You can discover the rest of what SDC has to offer on the site yourself
The most important thing for us is instant access to 3 million swingers. Your life is too short, to see all of them. In short. The amount of swingers is endless and every day a whole load of new swingers are added, because swinging is hot and both SDC and swinging are becoming more and more popular.
How can you become a member of SDC.com?
You can register via the link or banner below to SDC.com and through that link you are entitled to a free trial membership first. So if you don't like it, you don't have to pay anything.
Get a free membership on SDC
What are the costs of a SDC.com membership?
After registration and login you can first discover the SDC site as a free trial member for a while. If you experience any problems, you can send an email to the SDC support department. They have a good customer service team. After the free trial membership (or if you want to become a member immediately) you can register as a full member and the current rates are displayed on the site. But the best is yet to come. If you are a member for about a year, you will receive an very interesting offer to become a lifetime member for a more than reasonable one-time fee. After payment of this great offer you will forever be rid of periodic payments and you will be a completely free member for the rest of your life. We wish you a lot of fun.
Become a member of SDC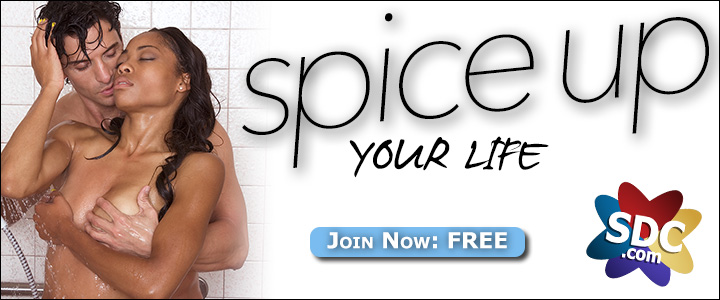 The largest swingers community in the world for couples and singles!